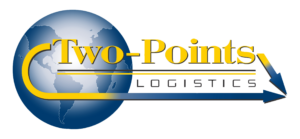 MAKING IT SIMPLE. That's the point!
CONTACT INFORMATION
1040 South Service Road, Suite 201
Stoney Creek, ON L8E 6G3
(905) 662-3300
email: [email protected]
BUSINESS HOURS
After hours dispatch can be reached at
(905) 662-3300 or through our dispatch e-mail at:
PRIVACY POLICY
Two Points Logistics is committed to respecting the privacy of individuals and recognizes the need for the appropriate management and protection of any personal information that you agree to provide to us. We will not share your information with any third party outside of our organization, other than as necessary to fulfill your request.
TWO POINTS LOGISTICS
Two Points Logistics serves clients globally ranging from Canada and the United States to locations across Europe and South America.  As a truly full one stop transportation solution, Two Points Logistics is able to offer its clients the options of Trucking, Air Freight, Rail and Ocean shipping across the world.